Virtual CFO Services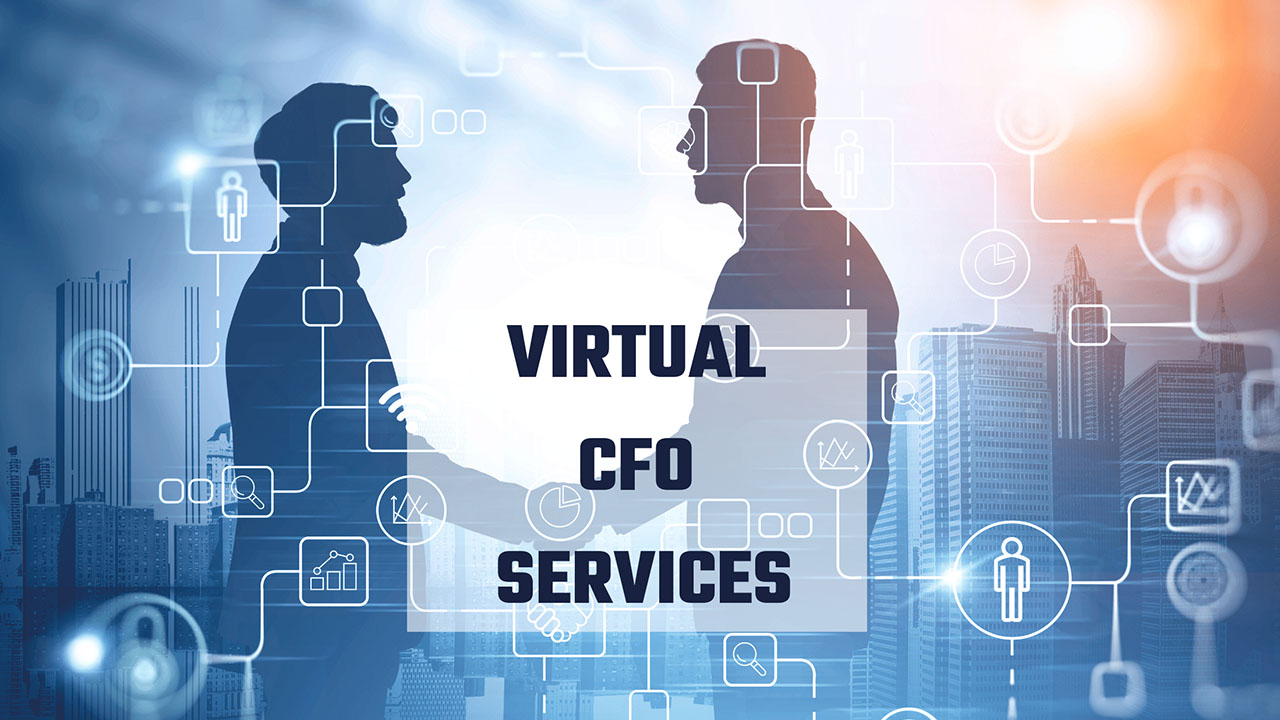 Invest in a well-qualified and trustworthy CFO for an affordable price.
We have worked with diverse businesses for the past 8 years – simplifying financial analysis and decision making, maximizing profitability, overcoming financial challenges, and preparing for business growth. Experienced and equipped with the right skill set, our virtual CFOs can propel your business to the next level.
With industrial expertise and a new perspective, a CFO plays a critical role in crafting a winning business strategy. Providing a comprehensive range of financial services that are completely customizable and tailored to your business needs and necessities. Let us help you achieve your business goals.
Digitalization has led to a sea change in the way businesses operate. Around the world, more and more businesses are implementing AI, analytics, and data-driven software. Finance departments are essential to businesses who must submit financial statements on a regular basis. The CFO oversees this department. Nevertheless, certain businesses lack the resources to have an in-house finance department. For these companies, outsourced finance is the best option.
Included in the package:
Software services for virtual CFOs.
Budgeting mechanisms.
Creditor and debtor management.
Calculation of Goods and Services Tax (GST).
Tax Deducted at Source (TDS) Compliance.
Human Resource Services.
Income Tax Return Services (ITR).
Registration of Companies (ROC).
Legal Compliance.
Management Information System Reporting (MIS).
Other Virtual CFO Services.
Virtual CFO services offer the following benefits
Assists in maintaining accounting records
The accounting standards set by government authorities are used to create financial statements for any business.
Budgeting
The proper cash flow in a business is maintained by an effective and thoughtful budget. By lining up income and expenses, budgeting helps in determining how much cash is required.
Understanding the finances
In addition to helping with decision-making, the virtual CFO can lead to growth of the organization. Utilizing key performance indicators, it analyzes the company's finances and operations.
Increase profitability
Virtual CFO services protect your resources from any sort of wastage. Properly planned and executed strategies improve the efficiency of the organization.
Projection of cash flow
An analysis of the cash position of the company can be found in cash flow projections. In this way, the company can draft a plan that will help meet its cash requirements.
Financial Forecasts
A financial projection is a projection of income and expenses. Market factors are also considered at requirement.
Assessing Risk
In addition to recognizing risks, the virtual CFO makes decisions to reduce the level of risk which could affect the business long-term. In this way, the dangers are reduced and opportunities are increased.
Business Plan
Business development is aided by a virtual CFO who deals with the organization's finances. The virtual CFO creates an appropriate development plan. A development agreement is required to recognize when business financing is required.
Key Performance Indicators
The key performance indicators help the company keep track of its current market and financial situation and predict the future. Every company has multiple aspects, such as production, sales, cash, distribution, cash collections and inventory levels, which are measured by KPIs. A virtual CFO tracks and analyzes such factors frequently.
Frequently Asked Questions (FAQs)
How do outsourced CFO services work?
An outsourced CFO is a monetary master who provides budgetary benefits on a low maintenance or task basis. A CFO can also assist an organization in identifying challenges, such as income issues, raising capital, settling tight edges, implementing increasingly effective frameworks, or planning for business growth.
WHAT ARE THE BENEFITS OF VIRTUAL CFO SERVICES?
Business development is the main reason for re-appropriating CFO financial administrations. By doing so, it helps the business executives focus on different business activities.
WHAT ARE THE DIFFERENCES BETWEEN A STAFFING AGENCY AND A VIRTUAL CFO?
The virtual CFO provides on-demand aptitude. We do that by having exceptionally qualified workers on staff ready to provide assistance. Customer circumstances are usually dealt with by a staffing office with full-time assets. Initially, they claim that they can perform administrations, and they then staff the work with a temporary worker arrangement or someone they subsequently contract. Most money related counseling firms that provide employees are outsourcing companies.
HOW BIG IS MY COMPANY FOR A VIRTUAL CFO?
In order to develop your business and smooth the way to success, you need a Virtual CFO who can guide you through the fundamental arranging process and recognize clear substantial objectives to be met.